Awards
2015 IQ Innovation Awards Winner, Business Category
Security
Doesn't matter where your data is stored,
it's more vulnerable than ever… until now
Enigma:
Simple, safe, secure encryption for your confidential computer files… everywhere
Encrypt your data with Enigma
Because you never know who's looking.
Encrypts your data wherever it's stored.
Notice of fraudulent online sales
A number of fraudulent online sellers are offering a "BlackSquare Enigma' product for sale.
BlackSquare Technologies only offers its products thru certified resellers.
BlackSquare Technologies and its certified resellers do not support or warrant these products and will not be responsible for any malfunction which may occur in products sold by fraudulent resellers.  Please contact us at info@blacksquaretechnologies.com with any questions.
What is Enigma?
We have designed, engineered and produced a patented, USB based real time, transparent, on-the-go hardware encryption and key management device we call Enigma.  Enigma is compatible with both WIN and MAC operating systems and any USB protocol.  Further, Enigma does not store data.
Once authenticated to your computer or network, Enigma can monitor all data-on your PC, server, backup drive, NAS device, as well as all cloud storage applications.  If you wish to share encrypted data with others, they must each have an Enigma and the password you used to encrypt the data.  Otherwise, no one may ever decrypt the encrypted data.
Features
'One click' file and folder encryption
Intrusion Prevention-prevents malware or spyware from infecting your data
Change the passwords at any time
ENIGMA does NOT store data
Encrypts data on PC, laptop, network, backup device, and all cloud storage applications!
Enigma is compatible with:
WIN computers (XP and newer)
Microsoft Surface – series 3 and newer
MAC computers with 10.8 and newer

Simple – Safe – Secure
In today's uncertain and data sensitive climate, its abundantly clear that your data is no longer safe. You never know who's looking.
The question now becomes, how do we protect our own data?
ENCRYPT is the new protect!
Enigma enables any user to confidently encrypt any file, group of files or a folder; taxes, wills, trust documents, pictures, videos, client data or anything YOU deem confidential.  Enigma is not only faster and less vulnerable than software encryption, it's also incredibly simple to use.
'I keep a lot of confidential information on my laptop.    I am usually very careful about keeping my laptop under close physical control but had an unfortunate lapse and left my laptop on a plane…that could have cost me dearly if not for the Enigma hardware encryption.  I had encrypted the hard drive using Enigma and had backed up my data, which I encrypted and stored in the cloud.  Enigma encrypts that data too.
Enigma is really an investment in peace of mind.'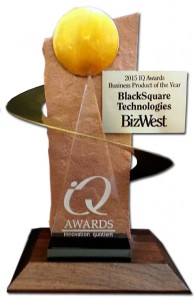 2015 IQ Innovation Awards Winner, Business Category—BlackSquare Technologies